Tag Archives:
urban
Lot's of behind the scenes including recording new tracks for my 2012 album, have kept me closer to home since end of summer, but this week is a busy one~ 2 1/2 live shows & a broadcast, Yeah!!
~ First, Wed 10/19 10pm~ my long awaited broadcast taped with Charlie Sylvestri for Up Close & Acoustic on WPAZradio.com Pottstown Pa also Saturday 1pm Eastern on WCHE in West Chester, PA wche1520.com a performance and interview formatted radio program. Each week, Charlie welcomes a singer/songwriter or band, to promote that artist's music and feature songs recorded just for that appearance, in an intimate and acoustic setting~ becomes a podcast here~ Up Close & Acoustic
23 min excerpt of 1 hr show, incl 3 songs live solo!
Up Close & Acoustic w Charlie Sylvestri by Larry Saklad
~ That same night KatManDu in Trenton, NJ hosts Indie Night & Acoustic Showcase 7pm – 11+, short set around 10:15 Bryan Cooper is joining on Cajon / perc featuring Kim De Meo w another 16 acts/ bands *Free, full act schedule~ serioussongwriter.com Here is another recording/video and chance to grab my SAKLAD album. This weekend we put the question up on facebook,"need help deciding which 3 songs to play Katmandu Wed 10/19" and have already gotten great responses (and a couple write-ins incl Freebird, but not, lol) Currently an overwhelming number of votes for "Just In Case", then "Tethered", "Salt In My Coffee" and some passionate requests for "Oh Philadelphia" & "Lull'bye". Keep 'em coming and we'll play the winners Wed!
~ Friday Oct 21 near Doylestown, Pa is HopeTown Live,
the Sound studio who's been hosting a bi-weekly new series of acoustic concerts (BYOB), with Ansel Mathews (NYC) *all ages. 7pm door, 8pm loooooong set~ some featuring Kim De Meo on vocals and Bryan Cooper joins on drums & perc.  It's a studio, some songs on piano, acoustic & organic, some 12 string Guild guitar, and sweet electric Guild for some. Well worth coming out to 5985 Carversville Rd.  MAP  the list of Fall performers runs a who's who of local artists, honored to be among.
We're recording- partake in our sonic goosebumps + comfy cozy seating!
~ So what is the 1/2 show left, you ask? …I almost forgot, on Thursday morning, yes 9:15am at Philly's World Cafe Live downstairs, David Rowan~ guitar, Doug Grigsby~ bass, Daryl A Burgee~ drums and I~ piano/keys, "Wet Pet" are doing 3 songs live, recorded by Drexel U Sound recording class who'll mic us up and multi-trak our ferocious "Ultra Medieval Funk". I'm back here Nov. 3 when the SAKLAD crew rock the house in more acoustic fashion!
~ If you'd like a preview of the recording I've been up to, here's a rhythm only/ no vocals sampling of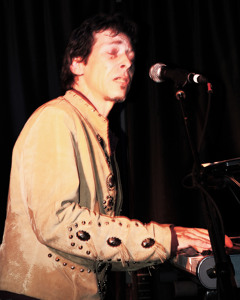 All Of A Sudden BTs & El Gtr by Larry Saklad "All Of A Sudden" © (with full lyrics for my next album due 2012). … dig the cheesy organ solo and feel~ a friend describes ala Leon Russel(ish)!

~ So there you have it, every effort to get you guys a chance to hear me, whether live show, or broadcast, or podcast, but remember, it never sounds as good as LIVE (and I been practicing + some brand new stuff!)  Happy Fall!
ps~ stay tuned for Nov news on a new recording for Christmas time…
Posted in

Blog, Past-Shows
Tagged

acoustic, alternative, ASCAP, band, blog, blues, Bucks County, concert, Doylestown, folk, folk music, funky folk, gigs, Guild, guitar, house concerts, kidgrin records, Larry Saklad, listing, live, live band, music, musician, news letter, old school, originals, perform, performer, Philadelphia, Philly, piano, pop, recital, rock, Saklad, sakladmusic.com, schedule, shoe gaze, showcase, singer, songs, songwriter, Trenton, urban, venue, Yet2B